25 November 1998
In the winter of 96 - 97, my friend Suntea told me that his former high school sweetheart Patty had been reported missing (by her cousin on 26th December 96) . It all seemed unusual that she would leave her three children behind on Christmas day. She was last seen by her husband JR - why not her children?
Her best friend Alice was contacted – she did not know anything about this. At first, I shrugged and didn't want to know. After all, she was not a close friend, and we had not seen each other since graduation.
However, later I remembered that Patty and I had actually shared a lot together.
We had participated in all musical activities: stage band, concert band, show choir, concert choir, talent shows, and finally the graduation song Of the Class of 82.
In 1985 she asked if I would play at her wedding. I declined because I was loyal to Suntea. Why didn't she marry him?
As these memories flooded back, I also heard Pachelbel's Canon in D. In one evening after work, I wrote the entire piece: lyrics and music. I played it for Suntea over the telephone. He wrote the last two verses about God as she was quite religious.
I had hoped that the lyrics will hint to others what really happened to her. Subsequently Alice, Suntea, and I set up a mailing campaign to all high school friends. Unless her body was found, she was still presumed missing.
Unfortunately, the campaign did not get the results we wanted. This song has never been sung in public.
Visit CD Baby to hear a sample from the 80-minute CD of piano solo compositions and arrangements performed by Anne Ku. Click below.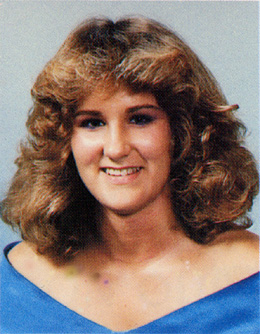 Patty Brightwell
Kubasaki High School
Class of 82
"Most Talented"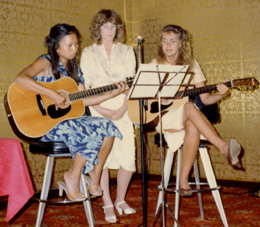 Update @ 7 August 2000
The mystery of Patty's disappearance since Christmas 1996 still has not been solved. I heard through the grapevine that there had been numerous full scale searches for her body in the areas surrounding her home in San Antonio, Texas in 1997. Why would she disappear? If she didn't, then where is she? Is she alive or dead? What is the current status of her case? Is there a case? If not, why not? Back in 1997, not many of us had access to the Internet or Email. Now we can communicate and act quickly in cyberspace. If you are curious - or if you have useful information - please contact the Webmaster. People don't disappear for no reason at all. Especially on Christmas Day.
Diary Entries about Patty:
17 Aug 00: Closures
22 Aug 00: Photos of Patty
14 Oct 00: Putting Words to Music
23 Oct 00: Forever Patty
31 Oct 00: Who is Watching Whom
1 Nov 00: Her Angelic Voice (mp3)
29 Jan 01: Coordinated Effort
Patty My Friend

1.

Patty my friend,

how could this be your end?

A life that's so unkind

to a soul like yours so fine.

2.

Your angelic voice,

so high and oh so pure

inspired quite a few

but hid the pain that you endured.

3.

Life can be unfair

to the ones who needed it most.

Your love was not enough

to change the path that you had chosen, chosen, chosen.

4.

I sing for my friends,

who have known and loved you more

than you will ever know,

in another time of long ago.

5.

I sing to you this prayer

God above may comfort you.

No more pain will you endure,

your suffering is finally over.

6.

I thank you for your mem'ry

I give praise for your good spirit

I pray for a new day

when we will share together His glory.

Other compositions inspired by and dedicated to Patty:
Facts on Patty: links to web sites, time line, what others have said, questions, etc. (work in progress)
Tribute to Patty Brightwell Vaughan
independent website with newspaper articles, police warrant, poetry, photos, and more