Grandma's Love
---
Visit CD Baby to hear a sample from the 80-minute CD of piano solo compositions and arrangements performed by Anne Ku. Click below.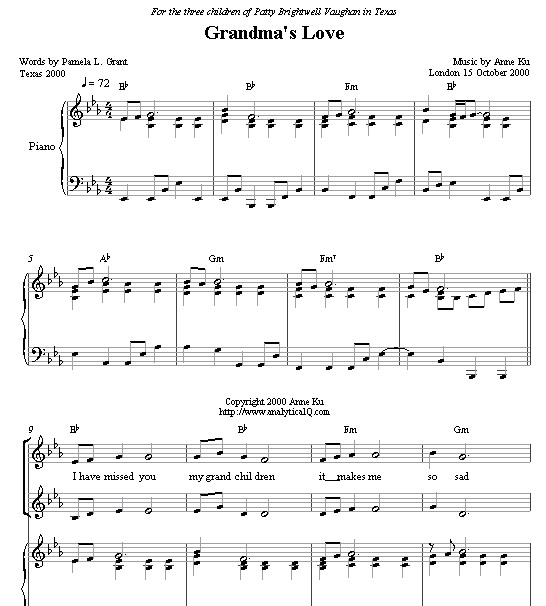 words by Pamela L. Grant
music by Anne Ku
I have missed you, my grandchildren
It makes me so sad
unable to watch you learn and grow
you've been kept out of my life.
Through these years that have gone by
I can only imagine how you've been
your happiness and sorrows
I wonder if you know where I am.
I pray to God to watch over you
and fill your precious hearts
with all the goodness in his name
and not the path that evil walks.
I wish I could hold you tight
and tell you it will be fine
for our hearts have an emptiness
I as her mother and you as her own.
The universe holds a higher plan
no matter what we do
all good things come around
to those with faith and patience.
I feel in my heart that you know
Nana loves you so much
Try as they may to keep me away
but our love cannot die.
Dedicated to Patty's three children in Texas.