London, England
"If you are tired of London, then you are tired of life."
The first time I came to London, I stayed only three days. The second time, I stayed for nearly a year. And now, I've been in London for more than ten years. When my friends complain how expensive it is in London, I tell them that it is cheaper to live here and always go away than to come here to visit.
Now that I no longer live in London, I am interested in ways to return from the Netherlands --- cheap flights for less than 20 euros one way, inclusive of taxes on Ryan Air from Eindhoven Airport to London Stansted, I'm told. I usually always fly BMI, KLM, or BA to Heathrow and EasyJet to Gatwick. But it's time to change. (March 2006)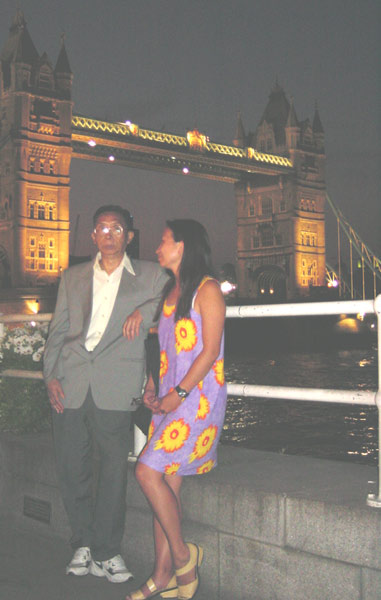 Photo: My father and me at Butler's Wharf near Tower Bridge, Summer 2001
It is easy to get around London using the London Underground. Single journeys are most expensive - so think about how you will travel to determine the kind of ticket best to get. Do you want to get a stack of 10 (a carnet) single tickets, a day pass (zones 1-2, 1-4, 1-6, or zones 2-6), a weekend pass, a family pass, a weekly pass, or a monthly pass. These passes are valid for the Underground, trains, and buses --- a little known fact.
The sales tax (also known as the VAT - Value Added Tax) is 17.5% on most goods and services, except books and cold food (groceries). It is not added onto your bill, like in America. Some places distinguish between eating inside the shop or taking it away. The latter frees you from the VAT. This tax is not charged on books, thank goodness!
There are five airports for London, in decreasing order of size: Heathrow (west), Gatwick (south), Luton (north), Stansted (east), and the city airport. From Heathrow, the Piccadilly line does a loop around - so there's only one direction and one line. Heathrow Express is a 15-minute train ride directly (nonstop) to Paddington Station, departing every fifteen minutes from Heathrow Terminal Four. From Gatwick, you can take either the Gatwick Express which runs every 30 minutes and takes 30 minutes long or Connex South to Victoria. From Stansted, take a train to Liverpool Street Station. From Luton, there's a bus that goes to London via Finchley Road.
Tipping is a modest 10% - and posher places sometimes automatically add 12.5%. So be sure to check.
In April 2000, telephone prefixes in London and elsewhere in the UK were changed. 0171 became 0207. 0181 became 0208.
Effective in 2003, there's a congestion charge levied on all cars (not mopeds or bicycles of course) driving into the congestion zone during the work week (working hours of 7 am to 6:30 pm). More information can be found at the London Transport site. Get a pass to avoid the hefty penalty.
Visiting Britain? More useful links to be listed here in due course.
London weather - next 5 days - with number of hours the sun is out and historical averages.
Where I would stay in London if someone else was paying for it:
The Landmark near Marylebone Station: some of the largest hotel rooms in London, easy access to A40 to Oxford, beautiful interior Winter Garden, swimming pool and spa, afternoon tea and jazz on Sundays, close to Archive Bookstore on Bell Street, Madame Tussaud's, Regent's Park.
The Langham Hilton north of Oxford Circus on Regent's Street: 429 rooms away from the bustling crowd, yet close to shopping district of London, 16-metre swimming pool and spa. If you're a Hilton fan, try its first lifestyle hotel The Trafalgar on 2 Spring Gardens.
Dolphin Square near Pimlico Station: good value for long stays, swimming pool and spa, just north of Thames River, good for jogging and cycling
St Martin's Lane Hotel near Leicester Square and Covent Garden: designer style, where the fashionable stay, in theatre land. Also good restaurants within.
MyHotel Bloomsbury northeast of Tottenham Court tube station, every room is individually designed, houses the famous Yo! Sushi restaurant - fresh on conveyor belts. The basement library is really nice and cozy. Rooms are quite small though.
Firmdale Hotels individually decorated rooms, English tradition, quite affordable!
and if any of these top hotels I've seen or read about would invite me to stay, I would gladly review them in my HOTEL REVIEWS!
or self-catering in a London Victorian cottage mid-way between Heathrow and Leicester Square on the Piccadilly Line
Where I would stay in London if I was paying for it:
Bed and breakfast via the London Home to Home
Earl's Court, Victoria, and Paddington areas have lots of Bed & Breakfast and one or two star hotels which you can just get the very last minute as a walk-up. They display a "No Vacancies" sign if full.
London Victorian cottage to let in the Queen of the boroughs - Ealing!
Looking for links to London pubs, hotels, more things to do . . .
Check out the Knowhere Guide to Britain
See analyticalQ recommended cheap eats - ethnic food on a shoestring